November 15, 2019 |
Kaitlin Vils
Standing out Amongst California's 3,000 Winemakers
According to the Wine Institute, the United States is the third largest world wine producer by country. Roughly 81% of all U.S. wine is produced in California alone.
Wilson Family Vineyard is a vacation home and limited quantity producer of fine wines in Paso Robles, California. With over 3,000 other winemakers in California, we represent only a small fraction of the state's total wine production. So, what makes us any different from the other 3,000 winemakers in California?
Producing around 400 to 600 cases a year since our first vintage in 2014, we focus on quality over quantity. Our winemaker, Joseph Farley, has over 30 years of experience in the Paso Robles wine industry. Joe produces award winning wines for Wilson Family Vineyard that have been recognized by Wine Enthusiast Magazine. Joe's wife, Leigh Anne, provides personal care for all guests staying at Wilson Family Vineyard and offers event coordinating services for special occasions hosted at the property. Wilson Family Vineyard is also available for vacation rental on VRBO.
The Serendipitous History of Wilson Family Vineyard
Even more important to us than our product are the people who help make it. Wilson Family Vineyard came to be truly through serendipity.
The Wilson family had the good fortune of meeting the Farley family on summer vacations in San Diego back in the 1970s. A lifelong friendship was formed between the two families over early morning surf sessions. The picture below captures two surfing buddies and now business partners. On the left is winemaker Joe, before he knew anything about wine. Standing next to him is owner Kevin Wilson.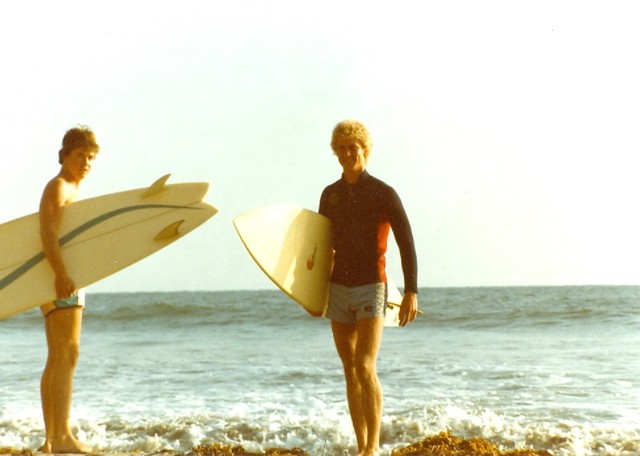 Winemaker Joe Farley on the left and owner Kevin Wilson on the right during an early morning surf session in San Diego in the 1970s.
In the early 1980s, Joe's father Al bought a vineyard property in Paso Robles to fulfill his dream of becoming a winemaker. This allowed Joe to gain hands on experience cultivating grapes and producing wine from a young age.
Fast forward to 2012, Joe called to tell the Wilson's of a small but beautiful vineyard property in Paso Robles that had been neglected and taken back by the bank. The Wilson's fell in love with the stunning property and jumped at the opportunity to bring it back to great condition.
Now, so many years later, Joe and the Wilson's are producing award-winning wines together and hosting visitors from all over for their vacations and special events. So you could say that serendipity describes the happy chance the Wilson's and the Farley's had of meeting in the 1970s. If it were not for those sunny summer vacations in San Diego, Wilson Family Vineyard might not exist today!
What to Expect: All Things Paso Robles
By starting this blog, we hope to share our insights about the Paso Robles community with any future visitors to help them make the most of their stay in the beautiful wine country.
The blog will focus on what we know best—wine and weddings. You can expect future blog posts to include insights about wedding and event planning, vendor recommendations, places to visit in Paso Robles, current trends in the wine and wedding industry, personal experiences, and much more!
We hope to serve as a resource for the local wine-lover, vacationer planning the ultimate weekend getaway, and wedding coordinator seeking information about Paso Robles vendors for that special day.
About the Blogger
I was 15 years old when my mom and her three siblings bought the Wilson Family Vineyard property in 2012. Now, seven years and one bachelor degree later, I am working as a marketing intern for Wilson Family Vineyard. However, it's more than just a job to me.
Some of my favorite memories were formed at the tranquil hilltop vineyard. Eating a home-cooked Thanksgiving dinner in the dining room, while overlooking the vineyard leaves that have transformed into a vibrant orange color for fall. Feeding the neighbor's friendly goats that trot right up to the property-dividing fence to greet us. Going wine tasting in Paso Robles for the first time with my family members when I was 21 and did not have a palate for wine yet. My only thoughts on the wines I tasted were, "I like it," or "I don't like it." Okay fine, I may only be 22 now but my palate for wine has definitely improved over the past year.
These heart-warming experiences make Paso Robles and Wilson Family Vineyard so special to me. It would be selfish not to share our home and story with the rest of the world! I hope you too can experience the magic of our community through the stories shared on the blog and get a glimpse into what makes us stand out from the 3,000 other winemakers in California.
How to Get Involved
Wilson Family Vineyard is committed to publishing monthly content that helps customers get to know us and our community. Please comment below with any content you wish to see in future blog posts. What do you want to know about us and our community?
Feel free to contact us on the contact form of our website. Give us a follow at one of our social media accounts by clicking on the links below or searching the specified username on Instagram or Facebook.
Instagram: @wilsonfamilyvineyard
Facebook: @wilsonfamilyvineyards
Thanks for reading!
Kaitlin